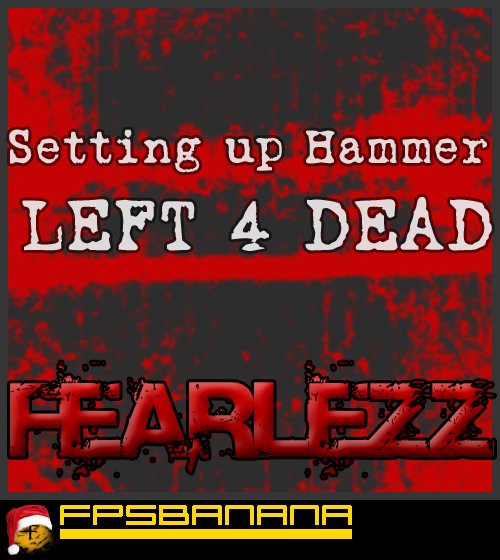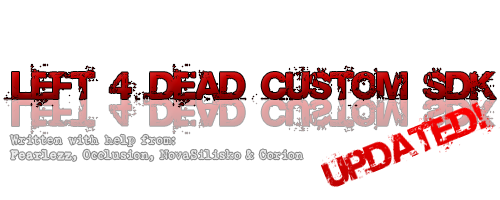 This tutorial will guide you how to set up hammer for Left 4 Dead so you can create your own awesome l4d maps >:D.
Written by Fearlezz
Step 1.0 Creating a new mod
1.1
Open up Source SDK. Choose The Orange Box as the engine, and press Create a Mod.
1.2
Choose Half-Life 2 Multiplayer. However, if you can not choose this option, choose anything esle, it does not matter.Now fill in the directory. Doesn't matter where you install it. I choose to install it C:\Program\Left4Fake\. Name; Left4Fake. The name is totally random and you can put in whatever you want. However, I recomend that you do not put Left 4 Dead, or Left4dead. Since it might screw up your SDK when the official SDK is released for L4D
1.3
When its done copying the new files, click continue and then next. Now close down Source SDK and follow the step below.
Written by Occlusion
Step 2.0 Extracting Materials and Models
2.1
2.2
Okay, now you need to add the materials and models from l4d to your new mod. Download the VPK extractor and run it (Green Icon). Now press extract and find the file called "pak01_dir.vpk" which is in this directory; drive:\Program Files\Steam\SteamApps\Common\left4dead\left4dead
2.3
Then another browse box will come up. Now find the mod you just created in your SourceMods Folder (SteamApps\SourceMods\Left4Fake) and press ok. The process of extraction can take around 10 minutes, so don't worry if it takes a while. Now if you were to open your mod with hammer you would see the new textures, but no new models or entities. That's what we are going to fix now!
Written by Fearlezz
Step 3.0 Fixing the models
3.1
3.2
Extract this .Bat file to your mod model folder, where you have extracted the L4D models (SteamApps\SourceMods\Left4Fake\models\). If there isn't any models folder, you've done something wrong :S.
3.3
Now Run this file, double click it and a new batch window should pop up. This process will take a while, it copies and deletes different files to make the models work for you =).
3.4
When it is done, you should now have working textures and models in hammer. Although, something is missing, doesn't it? Oh right, the entities, well, lets get started on that then :)
Written by Fearlezz with help from NovaSilisko on L4Dmaps.net
Step 4.0 Adding the Entities
4.1
4.2
Open up hammer, with your custom mod selected. Go to Tools>Options A new window should pop up
4.3
It should look something like this:
Now add the left4dead.fgd that you downloaded. It should look like this after;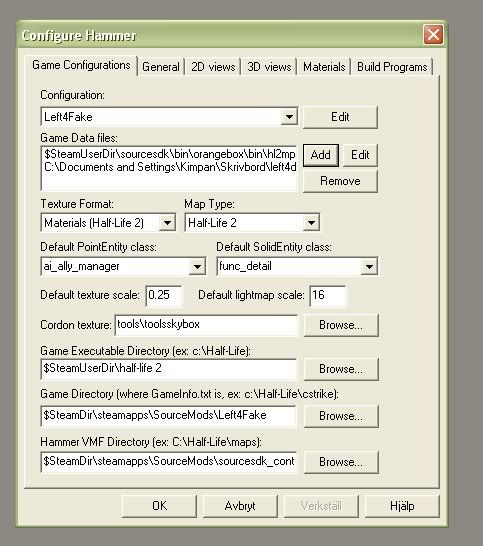 I have my .fgd on the desktop, not in the same directory as the other .fgd's.
Written by Fearlezz
Step 5.0 Making Hammer automatically launch L4D after Compile
5.1
Welcome to the final step, to make Hammer launch Left 4 Dead after you have compiled your map, this will also save your maps in the maps folder. Open up the options menu again.
5.2
The other options should be following;

$SteamDir\steamapps\SourceMods\Left4Fake

Game Directory:
$SteamDir\steamapps\SourceMods\Left4Fake
Hammer VMF Directory:
$SteamUserDir\sourcesdk_content\l4f
You'll need to create a new folder.
Written by Fearlezz
Step 6.0 Restart and Enjoy!
Guess what? Your done, enjoy the new hammer and dont forget to say thanks! Thanks to: Fearlezz Occlusion NovaSilisko (at l4dmaps.net) Corion (at l4dmaps.net) www.l4dmaps.net
You know how pissed I would be if they would release the official SDK tomorrow? >.>
THE END